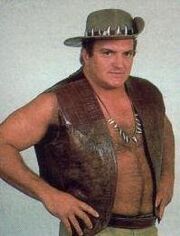 Vital Statistics
[
]
Wrestler Name: 'Lightning' Lenny Lane
Real Name: Leonard Collingsworth
Birthday: April 22, 1960
Hometown: Gu-Win, AL
Billed From: Auckland, NZ
Marital Status: Single
Alignment: Face
Height: 6'4"
Weight: 220
Theme Music:
Debut: July 2, 1981
Debut Opp: Billy G. Williams
Last Match: September 10, 2001
Last Opp: Mr. Mississippi
PriDistrict: Delta
Style: Daredevil
Finishing Move: Lightning Strike (flying dropkick)
Favorite Moves:
Weapon:
Notable Feuds: Terry 'Thunder' Thorson
Image: Outback Jack
Personal History
[
]
Leonard was born to Thomas and Mary Collingsworth on April 22, 1960, in Winfield, AL. He grew up in nearby Gu-Win, AL. He graduated from Marion County High School in Guin, AL. He received a scholarship to play football for the University of Auburn. During his senior year, he was recruited by Arnold Adams to become a great MVW wrestler.
His entire gimmick was designed to mimic 'Superstar' Bill Dundee from the CWA. He came in originally to become Terry Thorson's tag team partner. However, Thorson refused to team with him. His biggest problem with the gimmick was that he continually dropped the New Zealander accent in the ring. He was finally given a new gimmick of an insanely fast wrestler, thus earning the nickname 'Lightning'.
On July 30, 1990, Leonard married Naughty Nurse Natalie in Tupelo. They were divorced in 2008. After Natasha suffered her stroke in 2009, he and his stepdaughter Danielle never left her side. He still has a good relationship with his stepdaughter, mainly due to the time they spent together healing their relationship in the hospital.
He stayed in the Oxford-Tupelo-Corinth Circuit while he wrestled because he worked for Tupelo Water and Light. He wrestled until the 9/11 attacks. At that point, he left Tupelo to help clean up Ground Zero. He finally left New York in 2005 and came back to Tupelo. He tried to rejoin his wife in the MVW, but Arnold wanted to go with the younger wrestlers instead of the older. He went back to working for Tupelo Water and Light until he was laid off in 2010. He moved in with his stepdaughter and her family in early 2011 and is still looking for a place of his own in the struggling economy.
Title History
[
]