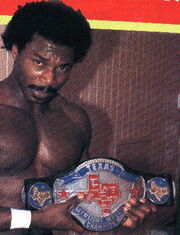 Vital Statistics
[
]
Wrestler Name: Michael Smith
Real Name: Tate Michael Henrickson
Birthday: February 16, 1953
Hometown: Dubuque, IA
Billed From: Springfield, MA
Marital Status: Married
Alignment: Tweener
Height: 6'
Weight: 238
Theme Music: "Saturday Night Special" by Lynyrd Skynyrd
Wrestling Debut: December 4, 1977 (Cedar Rapids, IA)
MVW Debut: February 1, 1981
Debut Opp: Wolf Pack
Last Match: January 16, 1998
Last Opp:
Style: Aerial Brawler
Finishing Move: Trigger (superkick)
Favorite Moves:
Weapon:
Notable Feuds: Wolf Pack, New Kangaroos
Image: Brickhouse Brown
Personal History
[
]
Tate Michael Henrickson was born on February 16, 1953 to Thomas and Celine Henrickson in Dubuque, IA. He had an average childhood with an auto mechanic for a father and a nurse for a mother. He grew up to take over the mechanic shop after his father died in an accident at the shop in March 1972. He ran the shop for four years until he was forced to declare bankruptcy. His accounting was his major downfall. His biggest problem was overspending what he had.
His father had been good friends with Doyle Rater, who had given the older Henrickson exclusive rights to work on Rater's auto fleet. Rater continued with the contract after Thomas' death. When Michael declared bankruptcy, Doyle gave him an offer and an ultimatum. He was given the shot to be one of his wrestlers, but he had to get his financial house in order. Doyle's solution: marry my accountant daughter Morgan.
Michael and Morgan were married in October 1977. This wasn't a blind marriage. It wasn't a shotgun wedding. The couple had been dating for five years. Doyle tried to speed things along in the relationship. Morgan would go down in MVW history as the only woman to go into labor at an MVW card. On February 24, 1983, at Tad Smith Coliseum, Morgan gave birth to their first son, Doyle Michael Henrickson (Doyle Rater II), in the dressing room.
After four years in Hawkeye Championship Wrestling with the National Rasslin' Alliance, the entire group came over to the MVW. While here, they picked a feud with the Wolf Pack. When the Wolf Pack left, they floundered a bit for a feud, but they picked it up with the New Kangaroos. Michael retired from the ring after his match against the Kangaroos on January 16, 1998. His partner Kurt Wesson continued to wrestle until the end of the year.
After retiring from the ring, Michael tried once again to operate his own business. Morgan had taken the challenge of balancing his finances. By the time he was out of the wrestling business, she had built up a sizeable nest egg so that he could reopen his father's auto mechanic shop. With the love of his life running the financial side, Michael is still operating his shop in May 2011.