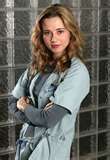 Vital Statistics
[
]
Wrestler Name: Naughty Nurse Natalie
Real Name: Natasha Pantalo
Birthday: May 25, 1962
Death Date: October 4, 2009
Hometown: Bellevue Hospital
Marital Status: Married (Psycho Ward / Lenny Lane)
Alignment: Heel
Height: 5'7"
Weight: 170
Theme Music: "Dancing in the Street" by Van Halen
MVW Debut: May 2, 1981
Debut Opp: (manager)
Last Match: April 3, 2006
Last Opp: Anna Conda
Style: Top Notch Brawler
Finishing Move: Knockout (enziguiri)
Favorite Moves:
Weapon:
Notable Feuds: Miss Whitney, Bobby 'Badd to the Bone' Browne
Managed: Psycho Ward (May 2, 1981 - June 13, 1984); Bobby 'Badd to the Bone' Browne (December 3, 1981 - June 13, 1984)
Image: Linda Cardellini
Personal History
[
]
Natalie was born to Brian and Margaret (Canby) Cobain on May 25, 1962, in Memphis. She is the youngest of two children. Her older brother wrestled as Dr. Lucius Love in the MVW. She grew up in Moscow Mills, TN until 1978 when the family moved to Iuka. She married Dan Pantalo (Psycho Ward) after her junior year of high school. She graduated from Iuka High School in 1980.
The duo came into the MVW as a manager and wrestler in 1981. Dan's life was cut short as he was shot to death coming out of Tulane Gym on June 13, 1984. Two days after his funeral, Natalie found out that she was pregnant with their only child, Danielle, born on January 20, 1985.
Arnold gave her some time off to mourn her husband's death. She came back with Miss Whitney's Moms of Mayhem stable in its earliest stages. She continued to wrestle until the Women's Division was disbanded in 2006.
Natalie remarried in 1990 to Lenny Lane. The two divorced in 2008. Natasha suffered a stroke on October 2, 2009. She died two days later. Lenny and Danielle were at her side.
Title History
[
]